About Parke Logging, Inc.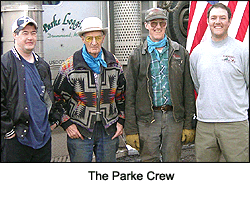 Humble Beginnings
Charlie Parke always knew he wanted to be a steward of the earth, first as a rancher and then a logger. His parents had a ranch located near Bearmouth, and like so many other ranching families, there just wasn't enough revenue from the ranch to support the family.
Charlie purchased an old logging truck and began hauling logs to help support the family. Then his brother William began felling timber and it wasn't long before the two entrepreneurs purchased a couple of crawler tractors and formed Parke Brothers Logging in 1979. The company continued to grow and developed a reputation for honesty, integrity, and competence.
In 1994, Charlie and William dissolved the partnership in order to pursue individual interests and Parke Logging Incorporated was born. In 2001, Charlie purchased a significant interest in Pyramid Mountain Lumber. This enables him to offer his customers a complete package of services. Parke Logging has kept abreast of changes in logging practices and equipment in order to protect natural resources and effectively serve landowners.
How We Can Help You
Parke Logging helps landowners increase grass production and timber growth, improve game habitat and enhance water flow with a comprehensive package of forest management services. We have a history of exceptional timber management and careful logging practices.  Charlie and his team can do the entire job from start to finish. Please visit our Testimonials page to read comments from a variety of forest professionals and satisfied customers.
If you have timber you want to log, please contact us. We're happy to answer your questions and provide you with information to help you make the best decision about managing your timber resource.