welcome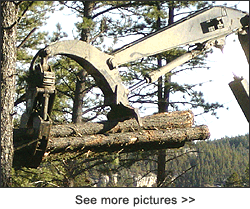 Parke Logging helps landowners increase grass production and timber growth, improve game habitat and enhance water flow with a comprehensive package of forest management services. We have a history of exceptional timber management and careful logging practices. Visit our Testimonials page to read comments from a variety of forest professionals and satisfied customers.
Parke Logging is a member of the Montana Logging Association and the Timber Products Manufacturers Association. We have the equipment, qualified personnel and experience to maximize the potential of your timber resource.
It's important to hire the right team. Visit our Why Parke Logging? page to learn more about how we can help you.
If you have timber you'd like to log, please contact us. We're happy to answer your questions and provide you with information to help you make the best decision about managing your timber resource.